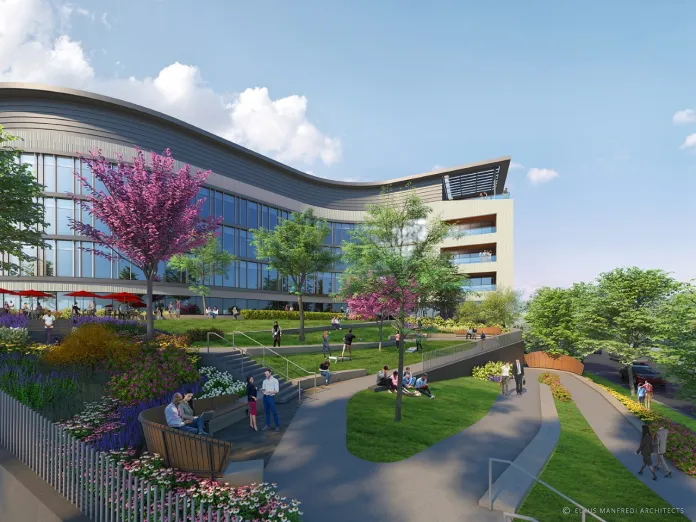 BOSTON–The Davis Companies and Boston Development Group have broken ground on 66 Galen Street in Watertown, MA, a 224,000 RSF, purpose-built, Class A life science building designed by Elkus Manfredi Architects.
The project marks Phase One of a two-part campus plan which will encompass more than five acres of land, 40 percent of which will be dedicated to open space, directly overlooking the Charles River, just a short walk from Watertown Square. Upon final buildout, the campus will include over 450,000 RSF of dedicated lab space across two new Class A life science buildings.
"The Galen Street campus will be an outstanding opportunity for its occupants, both operationally and from a people perspective. We've collaborated with the Town of Watertown and Elkus Manfredi to ensure that the buildings are strategically designed to provide everything needed for the next generation of lab users, while also integrating a strong health and wellness-focused amenity program to benefit those who will use it day-in and day-out," said Mike Cantalupa, Chief Development Officer at The Davis Companies. With the addition of 66 Galen, Watertown also takes a step forward in its long-term Comprehensive Plan to introduce transformative, transit-oriented development along the Galen Street corridor.
The Galen Street campus will address the growing need for high-quality life science space in the dynamically growing life science cluster in Watertown, a prime location for firms desiring to stay in proximity to key institutions in Boston and Cambridge and to be part of the emerging ecosystem of lab users who have chosen to make Watertown their home.
"We're excited to bring this lab campus to the market, with its first offering being a truly top-quality LEED Gold building. Our partnership with The Davis Companies has enabled us to create a world-class life science project team to create the kind of next-generation lab space that is so highly sought after in the industry," said Jodie Zussman, President & CEO of Boston Development Group.
Phase One of 66 Galen Street will consist of 224,000 RSF of Class A lab space that will differentiate itself from the market through various key features. One of the distinguishing components of the project plan is its significant upgrade to the public realm along the Galen Street corridor. Not only will 40 percent of the project site be dedicated to parks and green spaces, but substantial transportation infrastructure improvements – including traffic signalization, lane widenings, dedicated bus lanes and sidewalks – will be constructed as part of the Phase One development.
The building will offer six private tenant outdoor spaces and a common rooftop balcony with panoramic views of the Charles River. Additional high-end amenities include a handsomely appointed fitness center, locker rooms with showers, a 45-space bike room, on-site retail/café space, a hotel-style building lobby, and ample indoor parking accessible directly beneath the building. A 25,000 SF rooftop solar array will provide a significant portion of the building's power.
Located on the highly accessible Galen Street corridor, connecting Watertown Square to the Massachusetts Turnpike/I-90, 66 Galen Street provides 10-minute access to downtown Boston and easy access to Kendall Square via I-90 or Soldiers Field Road. The site is located immediately adjacent to the MBTA's Watertown bus terminal and is easily accessible from a variety of desirable residential communities, including Bostons urban core and its western suburbs.
With a world-class development team that consists of Elkus Manfredi Architects, John Moriarty & Associates, WSP, Ground, VHB, and McNamara Salvia, 66 Galen Street will deliver this lab facility in mid-2023 and has already garnered a high level of interest from prospects in the market.