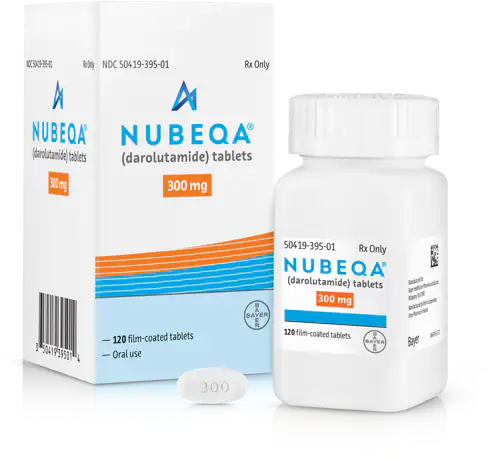 WHIPPANY, N.J.– The Phase III ARASENS trial investigating the use of the oral androgen receptor inhibitor (ARi) NUBEQA® (darolutamide) in metastatic hormone-sensitive prostate cancer (mHSPC) has met its primary endpoint. In the ARASENS trial, NUBEQA in combination with docetaxel and androgen deprivation therapy (ADT) significantly increased overall survival (OS) compared to docetaxel and ADT. The overall incidence of reported adverse events was similar between treatment arms. Detailed results of the study are planned to be presented at an upcoming scientific congress. NUBEQA is currently indicated for the treatment of patients with non-metastatic castration-resistant prostate cancer (nmCRPC).
The ARASENS trial investigating NUBEQA is the only Phase III randomized, multi-center, double-blind trial, which was prospectively designed to evaluate the efficacy and safety of a combination of an ARi with docetaxel and ADT compared to docetaxel and ADT in patients with mHSPC.1
"For patients with mHSPC, there remains a significant need for new therapeutic approaches that improve treatment outcomes. ARASENS was prospectively designed to investigate whether combining NUBEQA with docetaxel and ADT could lead to an increase in overall survival for men with mHSPC," said Scott Z. Fields, M.D., Senior Vice President and Head of Oncology Development at Bayer's Pharmaceutical Division. "We are especially grateful to the patients and investigators for participating in this important trial and look forward to presenting the full results at an upcoming meeting."
Bayer plans to discuss the data from ARASENS with health authorities worldwide regarding the submission of NUBEQA for marketing authorization in this indication.