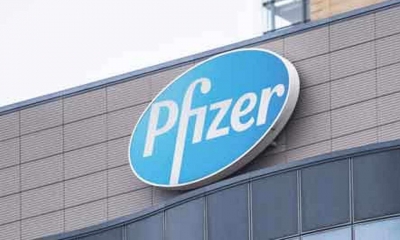 NEW YORK– Pfizer Inc. (NYSE: PFE) today announced positive top-line data from the Phase 3 clinical trial (NCT05035212) RENOIR (RSV vaccine Efficacy study iN Older adults Immunized against RSV disease) investigating its bivalent RSV prefusion F vaccine candidate, RSVpreF, when administered to adults 60 years of age or older. The bivalent vaccine candidate is composed of two preF proteins selected to optimize protection against RSV A and B strains.
RSV disease is characterized by several respiratory symptoms varying from mild to more severe disease, with more severe disease having more symptoms. A pre-planned, interim analysis of Pfizer's RSVpreF efficacy conducted by an independent, external Data Monitoring Committee (DMC) to assess protection against RSV-associated lower respiratory tract illness (LRTI-RSV) defined by two or more symptoms demonstrated vaccine efficacy: 66.7% (96.66% CI: 28.8%, 85.8%). This positive result enabled Pfizer to look at the more severe disease primary endpoint of LRTI-RSV defined by three or more symptoms, where vaccine efficacy of 85.7% (96.66% CI: 32.0%, 98.7%) was observed. The DMC also indicated the investigational vaccine was well-tolerated, with no safety concerns. Based on these results, Pfizer plans to submit a Biologics License Application (BLA) to the U.S. Food and Drug Administration (FDA) for RSVpreF and to prepare submissions for other regulatory authorities in the coming months.
"We are delighted that this first bivalent RSV vaccine candidate, RSVpreF, was observed to be efficacious in our clinical trial against this disease, which is associated with high levels of morbidity and mortality in older adults," said Annaliesa Anderson, Ph.D., Senior Vice President and Chief Scientific Officer, Vaccine Research and Development, Pfizer. "Scientists and researchers have worked to develop RSV vaccines with little success for over half a century. These findings are an important step in our effort to help protect against RSV disease, and we look forward to working with the FDA and other regulatory agencies to make this vaccine candidate available to help address the substantial burden of RSV disease in older adults."
Pfizer intends to present results of this interim analysis at a future medical congress and will submit the results for peer-review in a scientific journal.
The Phase 3 RENOIR trial is a global, randomized, double-blind, placebo-controlled study designed to assess the efficacy, immunogenicity, and safety of a single dose of RSVpreF in adults 60 years of age and older. To date, RENOIR has enrolled approximately 37,000 participants, randomized to receive 120μg RSVpreF or placebo in a 1:1 ratio. Enrollment up to approximately 40,000 participants continues in the Southern Hemisphere to accumulate cases during their first season.
RSV is a contagious virus that in healthy individuals can cause serious respiratory illness.1 The virus can affect the lungs and breathing passages of an infected individual and can be potentially life-threatening for older adults and adults with certain medical conditions.2,3,4 Each year it is estimated that 336,000 older adults are hospitalized globally due to RSV.5 In the United States alone, RSV infections in older adults account for approximately 177,000 hospitalizations and 14,000 deaths each year.4
RSV is a disease for which there are currently no prophylactic or therapeutic options for older adults and the medical community is limited to offering only supportive care for adults with the illness.