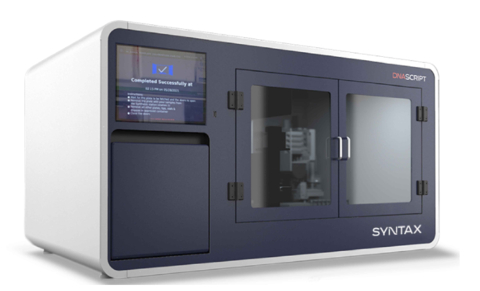 PARIS & SOUTH SAN FRANCISCO, Calif.– DNA Script, the worldwide leader in Enzymatic DNA Synthesis (EDS) technology, today announced the broad commercial availability of the fully automated SYNTAX™ DNA printing platform, which consists of the benchtop STX-200 system, latest biochemistry advancements, robust reagent kits, and intuitive software enhancements. The company will unveil the new platform during the upcoming global SynBioBeta 2023 Conference.
Powered by the company's proprietary EDS technology, the new SYNTAX platform allows scientists to synthesize up to 96 highly accurate, ready-to-use DNA oligos with maximum lengths of up to 120 nt in less than 24 hours in their own laboratories. The versatile platform works with the new SYNTAX Hi-Fidelity reagent kits for synthesizing longer oligos used in complex synthetic biology and genomics applications, including gene assembly, that require high sequence accuracy. The kits were also designed to incorporate degenerate bases for applications, such as protein mutagenesis.
"A major bottleneck in executing synthetic biology workflows is the time delay in obtaining synthetic DNA from commercial suppliers," said Paul Freemont, PhD, Head of Structural and Synthetic Biology and the London Biofoundry at Imperial College London. "The exciting new SYNTAX platform allows us to synthesize DNA on demand, which not only speeds up our internal design-build-test-learn cycle but allows us to control our own workflow and maximize access to our synthetic biology design space."
"Being able to rapidly produce customized oligos with enzymatic DNA synthesis in our own lab will help accelerate our synthetic biology research and allow us to quickly build and test genetic constructs," said Harris Wang, PhD, Associate Professor at Columbia University.
The fully automated SYNTAX platform leverages DNA Script's proprietary biochemistry, which uses highly engineered enzymes to accelerate nucleic acid synthesis and optimize performance. EDS is performed in an aqueous medium in an open-lab environment without harsh organic solvents making it more environmentally sustainable than traditional phosphoramidite synthesis. The platform's intuitive software lets scientists plan and manage synthesis runs, monitor reagent use, and analyze results from a simple dashboard.
"The new STX-200 system is the next step in our quest to make biology programmable," said Thomas Ybert, PhD, CEO and co-founder of DNA Script. "Our talented R&D team continues to raise the bar for speed, performance, accessibility, and control for on-demand DNA printing. The ability to rapidly produce longer, accurate custom DNA oligos will enable rapid assay optimization and help power novel discoveries in human health, diagnostics, and precision medicine."