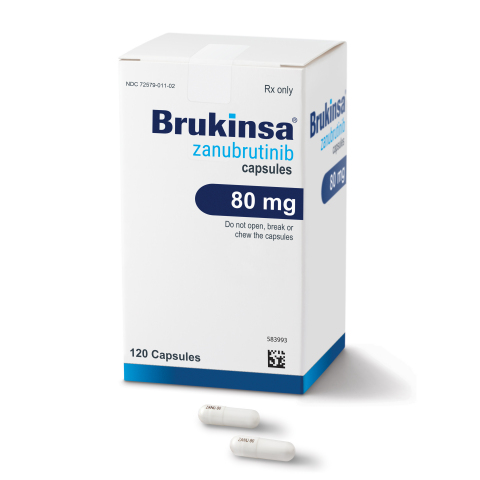 CAMBRIDGE, Mass. & BASEL, Switzerland & BEIJING– BeiGene (NASDAQ: BGNE; HKEX: 06160; SSE: 688235), a global biotechnology company, today announced that the European Commission (EC) has approved BRUKINSA® (zanubrutinib) for the treatment of adult patients with treatment-naïve (TN) or relapsed/refractory (R/R) CLL.
"This approval represents an important milestone for CLL patients and their physicians who now have a new chemotherapy-free treatment option, and an alternative to current BTKi treatment options," said Mehrdad Mobasher, M.D., M.P.H., Chief Medical Officer, Hematology at BeiGene. "Given that BRUKINSA has demonstrated consistent benefit across patient subgroups, regardless of risk status, we believe BRUKINSA could now be the preferred treatment option for newly diagnosed and relapsed/refractory CLL patients."
The EC approval is based on positive results from two Phase 3 clinical trials: SEQUOIA (NCT03336333), in patients with previously untreated CLL, and ALPINE (NCT03734016), in patients with R/R CLL. In these two trials, BRUKINSA demonstrated superior efficacy versus either bendamustine plus rituximab (B+R) or ibrutinib in first-line or R/R CLL, respectively. BRUKINSA is the only BTKi to achieve superiority versus ibrutinib in R/R CLL, as assessed by independent review committee, with an overall response rate (ORR) of 80.4% vs 72.9% (p=0.0264).i Additionally, more BRUKINSA patients than ibrutinib patients had a sustained response at 1 year with rates of 90% vs 78%.i The adverse events within the two trials were consistent with the overall safety profile of BRUKINSA. Subsequent to the regulatory submission, BeiGene announced topline results of the final PFS analysis of the head-to-head ALPINE trial, in which BRUKINSA demonstrated superior PFS compared with ibrutinib in patients with R/R CLL.
Prof. Clemens Wendtner, Head of Hematology and Oncology at Munich Clinic, an academic teaching hospital of the University of Munich, Germany, commented, "BRUKINSA has demonstrated clinically meaningful improvements as a next-generation BTKi over the first generation BTKi, and is proven to be significantly more effective and tolerable. Ensuring medicines are safe and tolerable for this patient population is critical, given the long-term treatment needed for CLL. Combined with the flexible dosing options, this approval offers a practice-changing option for patients with CLL, one of the most common types of leukemia in adults."
"We're pleased with the significant progress we've made to date bringing BRUKINSA to patients with hematological malignancies globally," noted Gerwin Winter, Senior Vice President, Head of Europe at BeiGene. "With this notable approval, we welcome the opportunity to expand BeiGene's presence in Europe and provide this innovative treatment option to CLL patients across the region."
BRUKINSA is currently approved in the EU for the treatment of adult patients with WM who have received at least one prior therapy or as the first-line treatment for patients unsuitable for chemoimmunotherapy and adult patients with MZL who have received at least one prior anti-CD20-based therapy.
In Europe, BeiGene has now obtained reimbursement for BRUKINSA for the treatment of WM in Austria, Belgium, Denmark, England and Wales, Germany, Iceland, Ireland, Italy, Luxembourg, Scotland, Spain, Switzerland, and The Netherlands, while additional EU countries are currently going through the reimbursement process.