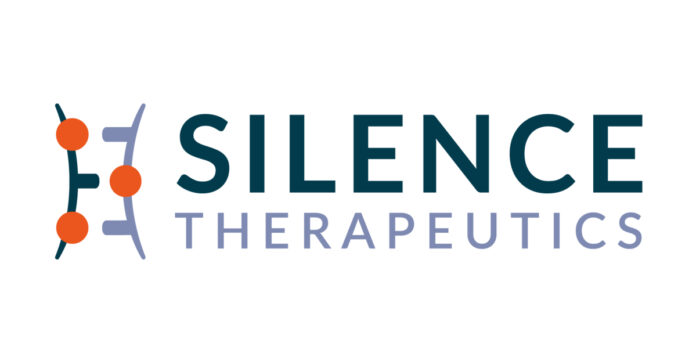 LONDON– Silence Therapeutics plc, Nasdaq: SLN ("Silence" or "the Company"), an experienced and innovative biotechnology company committed to transforming people's lives by silencing diseases through precision engineered medicines, today presented data from an analysis of its APOLLO phase 1 single dose study of SLN360, an investigational short interfering ribonucleic acid ("siRNA"), in healthy adults with high lipoprotein(a) ("Lp(a)"), a key genetic risk factor for heart disease, at the American Heart Association ("AHA") 2022 Annual Meeting.
The moderated poster entitled, "Time Averaged Lipoprotein(a) Reduction with SLN360, A Novel SiRNA Targeting Lp(a) in Healthy Adults with Elevated Lp(a)," assessed Lp(a) levels of participants in the APOLLO single dose study during five months of follow up.
In the top two SLN360 single dose groups (300 mg and 600 mg), median time-averaged Lp(a) reductions over 150 days exceeded 80%. At day 365, some participants still exhibited substantial knockdown of Lp(a) to approximately 50% of baseline. Additionally, extension data to day 365 showed no new drug related safety findings in either dose group.
Primary safety, tolerability and Lp(a) lowering effects from the APOLLO single dose study were presented earlier this year and published in the Journal of the American Medical Association ("JAMA"). In the trial, participants who received single doses of SLN360 (300 mg or 600 mg) saw median maximal reductions of 96% and 98% respectively.
High Lp(a) is estimated to affect up to 20% of the world's population and is a known, independent risk factor for cardiovascular disease. There are no approved medicines that selectively lower Lp(a).
"These findings suggest that SLN360 has the potential to sustain meaningful reductions in Lp(a) levels with infrequent dosing," said Curtis Rambaran, MD, lead author of the poster and Head of Clinical Science at Silence. "High Lp(a) is a very common, genetically determined risk factor that can lead to premature heart attack, stroke and aortic stenosis. We remain encouraged by the profile SLN360 has shown and look forward to evaluating further in the clinic."
Silence is evaluating SLN360 in the multiple dose portion of the APOLLO phase 1 study in patients with stable atherosclerotic cardiovascular disease ("ASCVD") and high Lp(a). The Company plans to initiate the SLN360 phase 2 ASCVD study in the second half of 2022, pending regulatory discussions.